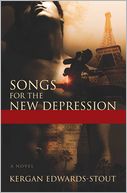 "Kergan Edwards-Stout infuses reality and hopefulness into a bittersweet story about compassion and personal growth. A distinctively entertaining novel written with moxie and bolstered by pitch-perfect perspectives." Kirkus Discoveries
Gabriel Travers knows he's dying; he just can't prove it. Despite his doctor's proclamations to the contrary and rumors of a promising new HIV drug cocktail, all it takes is one glance into the mirror to tell Gabe everything he needs to know. His ass, once the talk of West Hollywood, now looks suspiciously like a Shar-Pei, prompting even more talk around town.
Back in his 20's, life had been so easy. Caught up in the 1980's world of LOVE! MONEY! SEX!, Gabe thought he'd have it all. But every effort to better himself ended in self-sabotage, and every attempt at love left him with only a fake number, scrawled on a realtor's notepad.
The only happiness he could remember was in high school, where he'd met Keith, his first love. Only Keith had recognized the goodness within, and knew of the brutal attack Gabe had faced, the effects of which still rule his life today.
Now almost 40, and with the clock ticking, Gabe begins to finally peel back the layers and tackle his demons - with a little help from the music of the Divine Miss M and his mom's new wife, a country music-loving priest.

"Kergan Edwards-Stout has crafted a work of fiction reminiscent of some classic tales in
Songs for the New Depression.
Even better, Edwards-Stout's debut boasts the kind of dark humor that made Augusten Burroughs a household name." Advocate.com
"Kergan Edwards-Stout's Songs for the New Depression is a bold reminder that life, especially in its most difficult moments, is worth living. His characters are real and poignant, his writing is magical, and his message is timeless. Life is at its most precious when we are faced with our own mortality. It is an important book." Charles Perez, author of Confessions of a Gay Anchorman and founder of the No Shame Project
"Songs for the New Depression carries you away on waves of humor and sadness as we follow the protagonist as he deals with his search for love, acceptance and his battle with AIDS. Far from being maudlin, it is extremely sensitive and ennobling. A fine work that will leave you wanting more." Robert Michael Morris, star of TV's The Comeback and author of An American Scrapbook
http://kerganedwards-stout.com
http://www.facebook.com/kerganedwardsstout
http://www.twitter.com/edwardsstout